In Florida, modular buildings have become a very appealing alternative to conventional stick-built buildings across all industries. In fact, it is highly likely that you have stepped inside many of these prefabricated structures without even noticing a difference.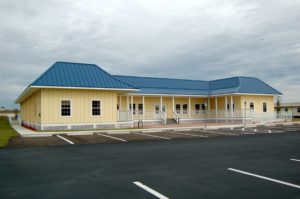 Affordable Structures is a leading designer and installer of permanent and portable modular buildings throughout the southeastern United States and the Caribbean. We can construct any type of modular building you need – from small projects to buildings of grand scale – in half the time and at half the cost of traditional construction.
What is Modular Construction?
Modular buildings are designed, engineered and manufactured in sections, or modules, in a protected factory environment at the same time the building site is being prepared. Once completed, the sections are transported and assembled on- site.
With today's innovative building methods and advanced technology, prefabricated modular buildings from Affordable Structures are not limited to simple offices and commercial buildings.
They are well-suited for use as bank buildings, medical/dental centers, retail stores, restaurants and cafes, warehouses, fire stations, worship centers, daycare facilities, classrooms and many other uses.
Advantages of Modular Construction
Speed of completion. Because all parts of the building project are underway at the same time, modular buildings from Affordable Structures can be completed 30% to 60% faster than stick-built buildings.
Flexibility. Modular buildings can be portable or permanent, single-story or two-story, and can be easily broken down and reconfigured or relocated when necessary.
High quality. Modular buildings are built to exceed state and local building codes, the same codes that apply to traditionally built buildings, and comply with all plumbing, electrical and fire safety regulations. The architectural designs are compatible with any environment and offer just as many options for materials, finishes and exterior trim. Affordable Structures' custom modular buildings use attractive siding materials, such as stucco, brick or Nichiha fiber cement products, as well as arched doorways and windows, and pitched roofs of metal or Spanish tile.
Green. Modular construction is environmentally friendly. Lean factory manufacturing reduces material waste, and the construction process minimizes the typical construction site noise, debris and air pollution. As a member of the U.S. Green Build Council (USGBC), Affordable Structures builds commercial modular buildings that can meet GREEN building standards.
Substantial savings. Modular building construction offers significant savings compared to traditional construction. The cost per square foot of wood frame modular buildings ranges from $40 to $70. Steel framed modular buildings have a greater life expectancy (up to 50 years) and range from $55 to more than $100 per square foot, based on your requirements.
Affordable Structures specializes in the manufacture of modular buildings for residential, commercial and industrial applications. We serve as general contractor for all aspects of the construction process, such as permit acquisition, site preparation, footing installation, roofing, masonry, utility connection, the construction of decks, ramps and sidewalks, and more.
As one of Florida's top modular building installation companies, Affordable Structures' turnkey services ensure speed, efficiency and quality construction. Contact us today to find out how we can help you save time and money and realize the many advantages of modular construction.
For more information about temporary and permanent modular buildings in Florida, please refer to the following resources: