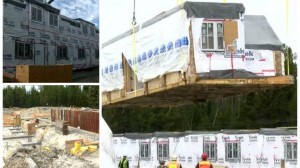 Modular buildings are becoming increasingly popular for challenging building projects, and the Canyon Hotel in Yellowstone is another example of such.
With a short construction season and long distances from building materials as two of the obstacles in this project, they're working around these obstacles by using modular buildings.
Some of the Canyon Hotel is being built in Boise and delivered to the project site already looking like rooms.
"Six days, six days we're in to it now," said Xanterra Assist. General Manager Mia Bell. "Placing the modules after being delivered from Boise, ID and we've got some third floor appearing here."
"I just took a walk through and it's starting to look like a hotel from the inside," Bell added.
Having the rooms built off-site and delivered one room at a time is a time saver for this project. Unit B of the Canyon Hotel will be ready to accept guests in July, which is normally a much longer process.
The entire Canyon Hotel project is expected to be completed by the summer of 2016.
For more information about this project and to view the original article, click here.
To learn more about how Affordable Structures could help you shorten your building project as explained in this article, contact us today or get your free 60 second quote!